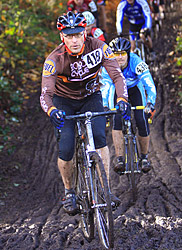 Following another great season, the 20/20 Fuel Cycling Team is back for more fun and mayhem for 2013-2014. Comprised of a diverse group of riders who are dedicated to the ideal that the effort put forth in a race is the reward, and the pure joy of an exhausting effort is just as valuable to the person who finishes first, as it is to the person who finishes last. 20/20 Fuel Cycling is dedicated to promoting cycling, sportsmanship, competition and most importantly fun. Whether racing locally, nationally or just commuting to work or school, 20/20 Fuel cyclists and sponsors are truly devoted to the sport of cycling. So whether you see us riding on the street, a park, or through your yard, give us a wave and a smile, then come out for a race or two!

Created by two cyclocross-respectors, 20/20 Fuel Cyclocross team was purely born out of the heart. Sam Taagen and Kevin Beshlian both had a dream to create a cyclocross team: A team that would carry on the true spirit of cyclocross, a spirit of teamwork, pure sport, muddiness, and love for the tradition of cycling. They put their passionate dream to work by recruiting "the neighborhood guys," who mostly rode in the early Sunday morning with Taagen and Beshlian around Mercer Island. Sam and Kevin sought the support of local sponsors who stepped up and embraced their idea: 20/20 Cycle, an excellent bike shop and Fuel Coffee, a budding and retro coffee shop. Sam's wife, Patty, drew smart and savvy designs of the jerseys; sending them off to a jersey making company. Out of pure perseverance, and a love for Cyclocross, 20/20 Fuel Cyclocross team was born.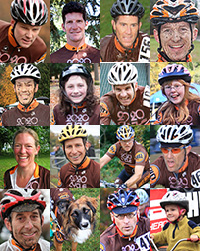 :: ROSTER 2013-2014 ::
Aaron Ambuske, Stephen Bentsen, Kevin Beshlian, Sarah Beshlian, Tom Biehl, Fred Burnside, Mark Cannon, Matthew Cazier, Seph Coats, Dave Einmo, Dave Farrell, Anna Feldman, Rich Feldman, Tim Fielden, Derek Gallichotte, Dave Gudgel, Faith Gudgel, Lili Gudgel, Ryan Harrison, Keith Heinzelman, Hank Koerner, Brad Laesch, Conrad Laesch, Jenny Loertscher, Guy Maddison, John McHale, Mike O'Brien, Lauren Park, Willard Park, Dave Queen, Marc Richardson, Ben Smith, Flora Taagen, Sam Taagen, Michael Trentalange, Scott Wiltamuth, Sarah Wood, Tim Wood, Scott Zorn
"They're an amazing team...the nicest group of people who will ever kick your ass on a race track" - Alex, 20/20 Cycle .